2014, Volume 31 winners:

Michael Banker
Kary English
Auston Habbershaw
Scott Parkin
2015, Volume 32 Winner!:
Julie Frost
Published finalist:
KD Julicher
Congrats to them!
The Writers of the Future Finalists forum within these pages is a private forum, available only to Finalists of the L. Ron Hubbard writers of the future contest who did not place in the final three.
Published finalists are welcome.

Primarily, we are a writer's group.
We talk shop about how to get back to the
Elite eight, and beyond, into the Published three.
(Among other small talk.)


If you haven't yet reached finalist, please join us
over at the come-all WotF forums here:
Announcing!
2nd & Starlight.
Future Finalists 2nd anthology featuring twelve exciting sci-fi and fantasy stories.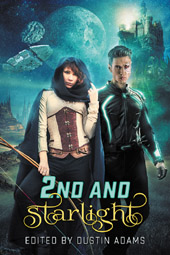 Future Finalists
Presents:
1st & Starlight
An anthology featuring fourteen of our authors.
You can pick up a copy for Kinde from Amazon.com